We're thrilled to announce the latest update for Encrouter Smart VPN router, packed with several highly anticipated features, improvements and bug fixes. Ready to take your Encrouter VPN experience to the next level? Us too!
So, without further ado, let's dive into what's new:
1. Multiple Router Support
Now, you can take control of not just one, but multiple Encrouter smart VPN routers, right from your phone. Our latest update brings you the much-requested multiple router support feature. Control multiple Encrouter smart VPN routers from your phone or – invite your loved ones to assist you in setting up your home router remotely.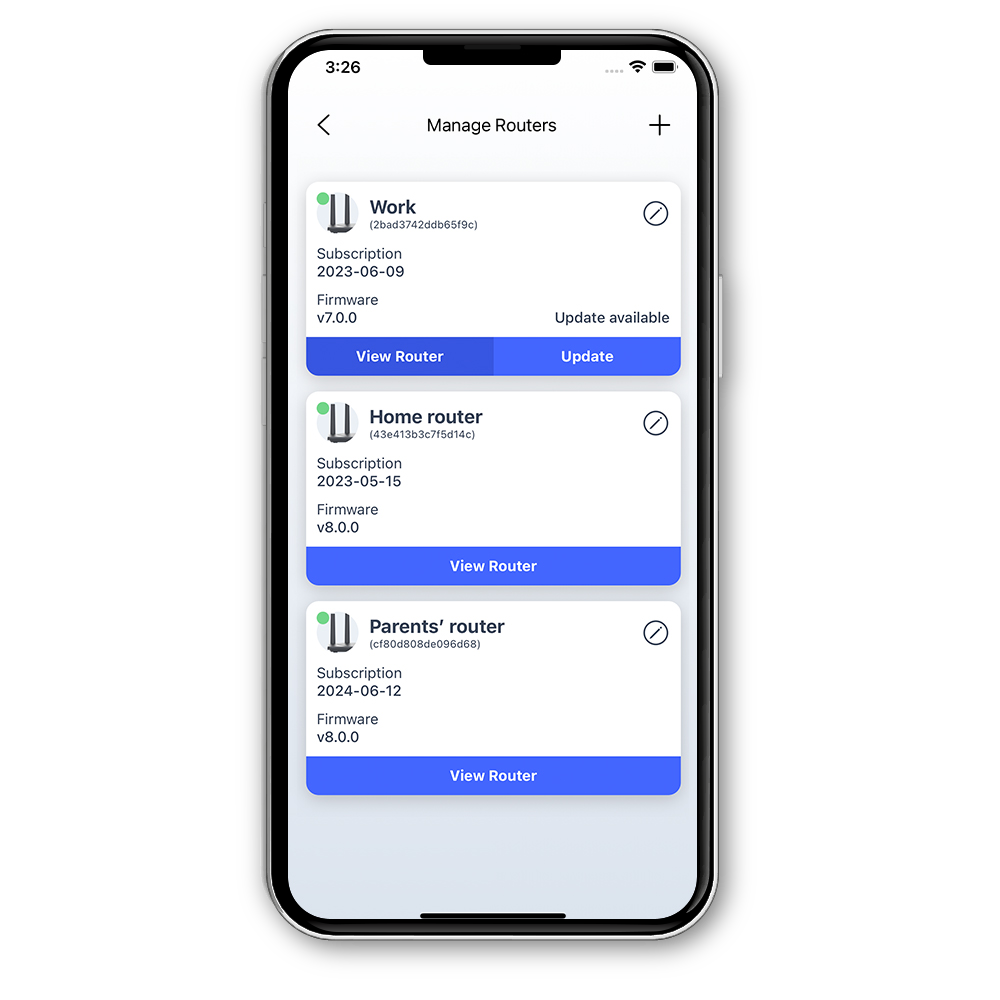 2. Speedtest
Ever wondered about your network's speed while browsing or streaming with VPN? Say hello to the new Speedtest feature allowing you to effortlessly gauge your network's performance. Want to compare the speed of two different VPN locations? With just a few clicks, now you can measure your connection speed for an even better browsing experience.
3. Streaming Support
Unlock a whole new world of streaming possibilities with the new Encrouter streaming support feature. Get an even more enjoyable experience while watching your favorite shows!
3. New location: Hong Kong
By popular demand, we're excited to announce that a new location has been added to Encrouter's list of dedicated servers: Hong Kong! 🇭🇰 Whether you're seeking improved access to geo-restricted content or looking to improve your online privacy – our Hong Kong location server has got you covered. Time to catch up on the latest episode of Get On A Flat!
4. Exclude Devices from VPN
Sometimes you may have devices that don't require VPN protection.  With the added ability to exclude devices from VPN, now you have complete control over whether a device is connected to VPN or not.
5. Better control of your Wi-Fi settings
Customize your network settings effortlessly with the newly added disable / enable SSID feature. Enable or disable specific SSIDs to tailor your network access, ensuring maximum security and convenience.
7. Various Bug Fixes
Encrouter team has been working hard squashing pesky bugs to ensure a smooth and seamless user experience for anyone using Encrouter smart VPN router. With this update we have addressed multiple bugs reported by our valued users, improving the router's performance.
The June update is finally here to elevate your online experience with a range of new features. From different bug fixes to speedtest and push notifications – we've listened to your feedback and implemented features to enhance your digital privacy even more. Have any other suggestions? Let us know at [email protected]!
---

Created in Stockholm, Sweden, Encrouter is designed to make digital privacy as simple as humanly possible. We are a small team of hardware and software experts devoted to bringing online privacy and personal security to people worldwide.
So whether you're looking for the best VPN router for gaming, video streaming or improving your online privacy – Encrouter has got you covered. Encrouter VPN service is entirely private, with no third-party affiliations or investments, meaning that the VPN infrastructure is entirely owned and operated by us. Encrouter has a zero-log policy, blind operator mode, WireGuard encryption, Diskless/Driveless Servers and more to ensure the privacy and security of your connection via our VPN service.
---

Not using Encrouter yet? Upgrade your old router to Encrouter built-in VPN router now for a more secure, fast and customizable internet access. Get your Encrouter on your preferred Amazon site.